BEEF HEART STEAKS WITH BONE MARROW
There's no question that meat is one of the most nutrient dense foods on the planet. This simple one pan approach takes it to an even higher level with oven roasted beef heart steaks and buttery roasted bone marrow. Whether you're on a carnivore diet (eating primarily animal foods) or just looking to get some solid (and delicious) nutrition, this easy approach hits the mark!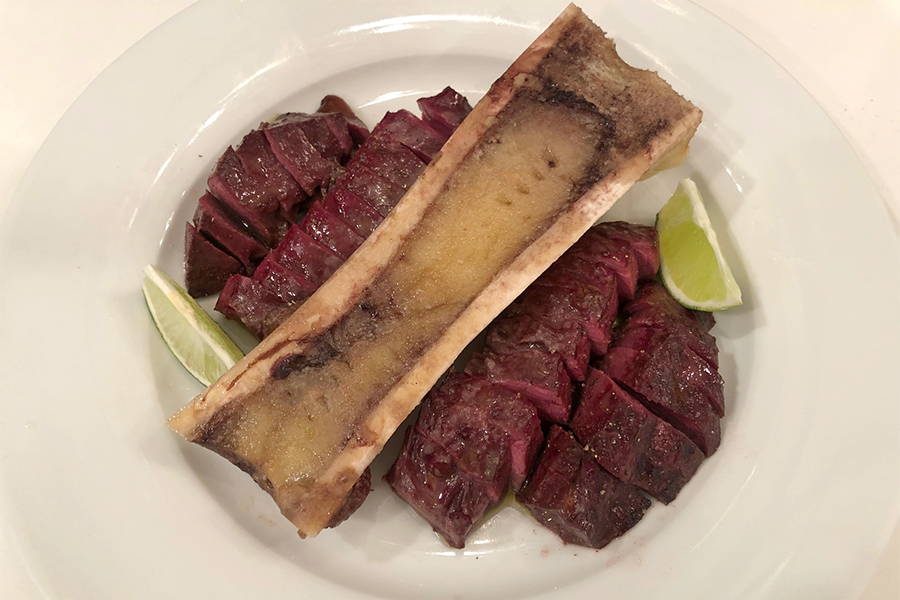 Beef heart is equal parts muscle and organ. It does have a unique flavor profile of its own, but one that is milder and more tolerable for most than something like the liver. It's on the leaner side, but tender and quite easy to prepare. It even marinates really well! In this recipe we simply roast everything together in a 400 degree oven. About 15 minutes in, we pull the medium rare beef heart steaks and let them rest on a plate while the marrow finishes cooking for an additional 5 minutes. Weeknight cooking which is both delicious and nutritious doesn't have to be complicated.
INGREDIENTS
Beef heart steaks, trimmed

We used around two pounds

Salt, olive oil, and lime for seasoning
TIME AND DIFFICULTY
Prep Time: 5 - 10 minutes
Cook Time: 20 minutes at 400 degrees
Difficulty: Easy
May We Suggest: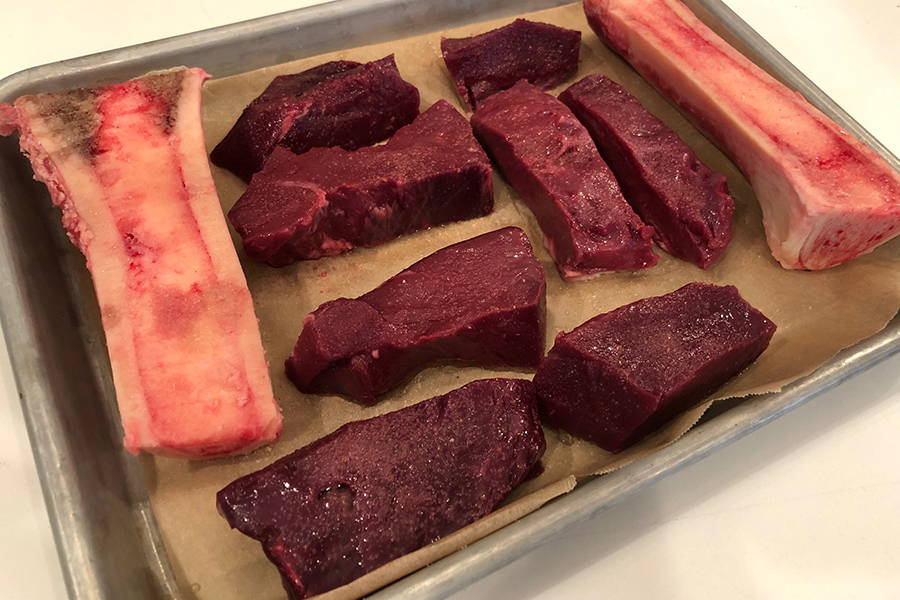 Step 1: Prepare the roasting tray. Preheat the oven to 400 degrees. Place the canoe cut bone marrow and trimmed beef heart steaks with a little space between each on an appropriate sized roasting tray lined with parchment paper. Season the bone marrow with salt. Drizzle/rub olive oil on the heart steaks and seasoning with salt.
*Note about beef heart steaks: these heart steaks typically require a small amount of trimming. Cut them into strips that are roughly similar in size for even cooking, and trim away any remaining clumps of fat. They should mostly just look like trimmed steak strips. around 1 inch in thickness.
Step 2: Roast in a 400 degree oven. Place the tray in the oven and roast for 15 minutes. Check the beef heart steaks for desired doneness, either with touch or using an internal probe thermometer. Since they are on the leaner side, we prefer a medium rare finish around 134 degrees. Pull the heart steaks and place them on a plate outside the oven while the bone marrow finishes roasting for an additional 5 minutes.
Step 3: Slice and serve. Once everything is finished and the heart steaks have rested for a few minutes, slice into bite sized portion and arrange on a plate next to a marrow bone. Drizzle olive oil over the top and finish with a squeeze of lime. The acid in the lime is a great compliment to the richness of the marrow and meaty heart steaks.
---