Is there anything better than homemade meatloaf? Ok, maybe one thing, and that's covering your meatloaf with bacon. Cordelia, lovingly known as Deedee, makes sure everyone is fed on a regular basis. Seriously though, I could probably eat this every day of the week. My wallet would also benefit from that. Using ground pork and beef as the basis for this meatloaf, it ends up feeding a lot of folks at a great price. You can make it 100% beef if you'd like, but pork makes everything taste better.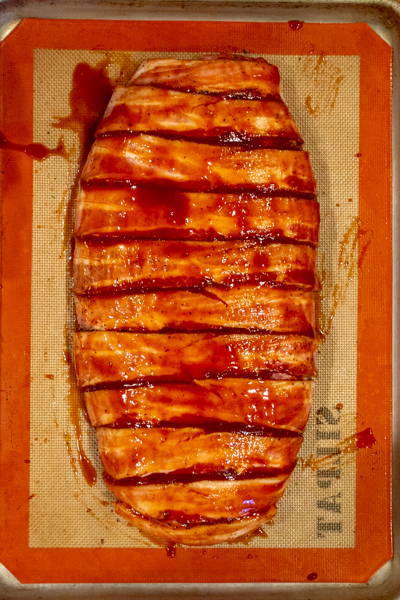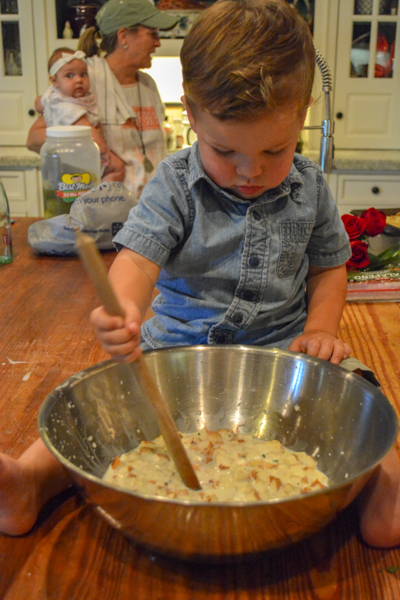 The best part about this recipe is that, like any ground meat, it's highly versatile. You can add just about anything imaginable to your meatloaf. Leftover chopped vegetables, crusty bread, rice, wine, herbs and spices. I would go as far as saying that we make this basic recipe at least once every two weeks and it is probably never the exact same as the time before, but it always hits the spot! For this recipe, we needed to feed 8 1/2 people, so we tripled it but you can scale it up or down depending on the amount of people you are needing to feed. This is also a great one for the family as everyone can lend a helping hand. Don't be afraid to wing it, either. That's the way we like to cook, especially for a recipe like home made meatloaf!
Prep Time: 25 minutes
Cook Time: 45 - 60 minutes
Difficulty: Easy
May we recommend:


Roasting tray (2) with non stick liner

Two packages bacon plus favorite BBQ sauce

Salad and sweet potatoes for sides
INGREDIENTS
2 medium onions, small diced

12 cloves garlic, chopped (or use garlic powder)

4 - 6 leftover semi-stale buns

Salt and pepper for seasoning

Barbecue sauce for basting

Optional: 1/4 cup grated parmesan per pound of meat for extra richness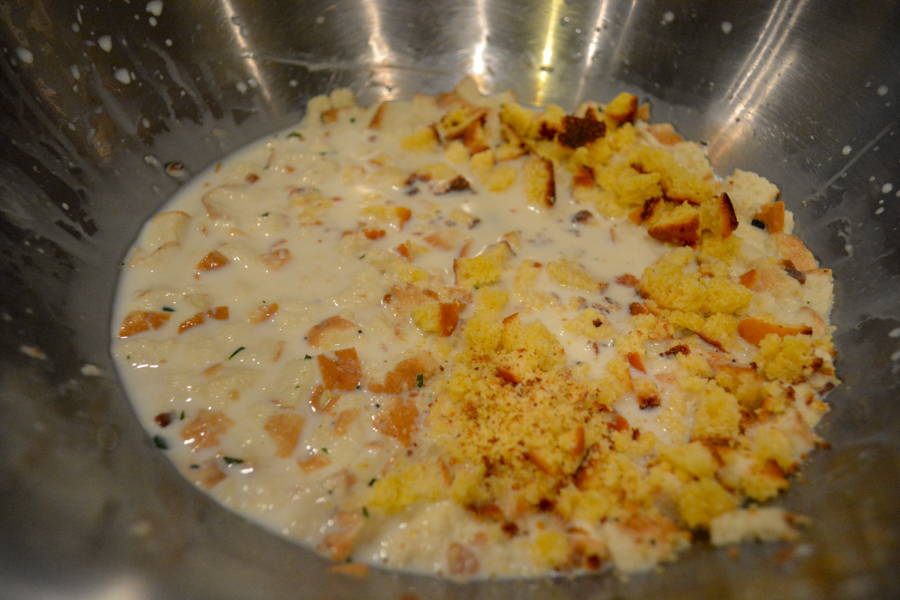 Step 1: Mix the milk and bread. Cut or tear your bread up into small chunks and combine it with the milk in a bowl while you prepare the other ingredients. Everything will eventually get mixed together but this gives the bread a chance to soak up the milk and soften. It's a great job for any young assistants that want to lend a helping hand!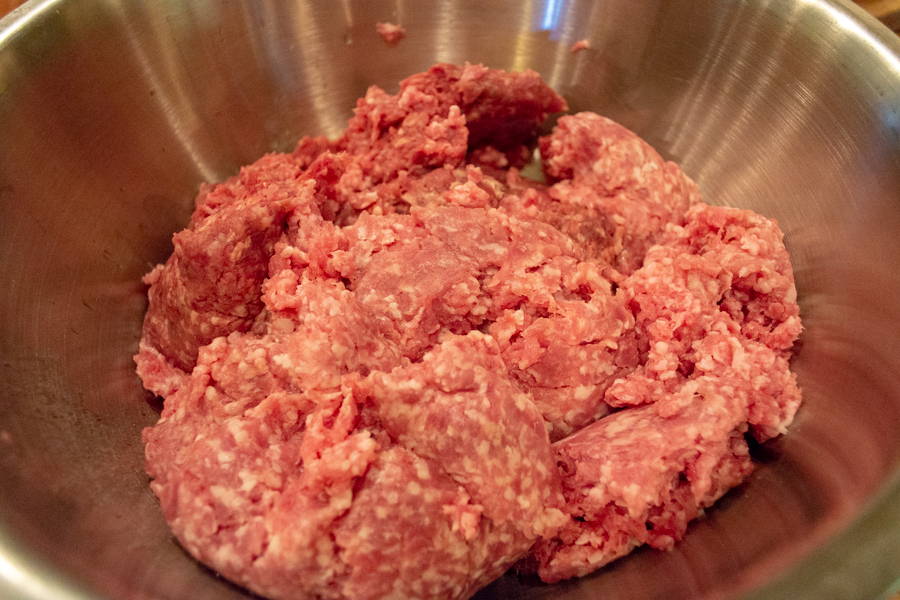 Step 2: Combine ingredients. Preheat your oven to 350°. In a mixing bowl, add the meat, diced onion, chopped parsley, eggs, chopped garlic, and liberally season with salt and pepper. We did not measure the salt and pepper, but you will get a sense of this over time! It was probably around 4 - 5 T salt and 1 T pepper. Mix everything thoroughly by hand.
Step 3: Mix meat with bread and milk. Now that the meat and seasonings are mixed together, add the milk and bread. Mix again thoroughly for about a minute. Don't be afraid to get your hands in there! Everything should come together and form a slightly sticky mixture that will hold together evenly during the cooking process.
Step 4: Shape the loaves. Line a baking tray with a non-stick cover or use parchment paper or foil. This will make cleanup easier and prevent sticking. Take half the mixture and form a loaf by hand on the tray. It should be about 2.5 inches thick. Use the remaining half to make another loaf on another tray. Make it thicker if you like, but it will add to the cooking time.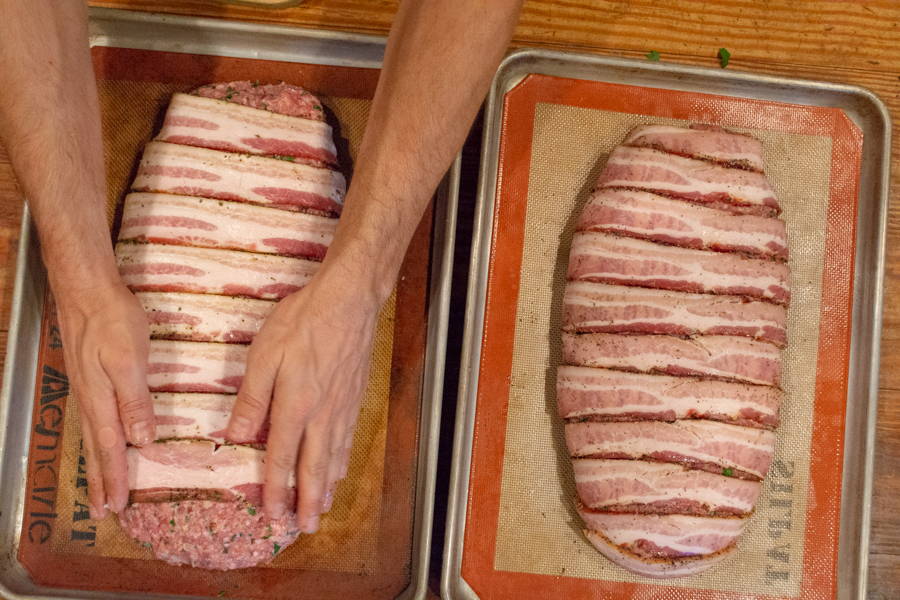 Step 5: Cover with bacon. Why would you not do this?? Grab a pack of your favorite bacon and layer strips over the top, slightly overlapping them. For the ends, you can cut a strip of bacon in half and use these shorter pieces to finish up the process. We used jalapeno bacon for one loaf and black pepper bacon for the other!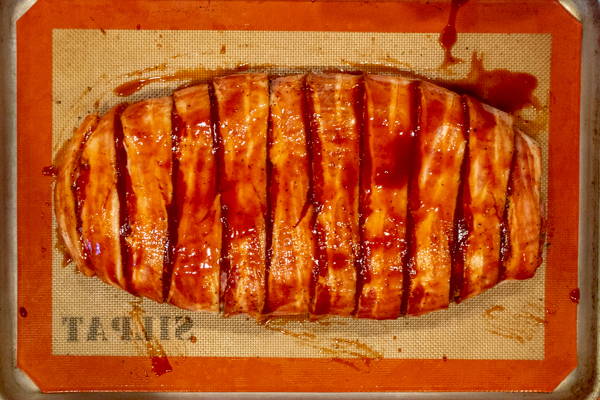 Step 6: Baste with BBQ sauce. Any sauce will do. Sweet, spicy, tangy, whatever you've got on hand. Ketchup will also work. Or skip this step all together because it's already going to be amazingly delicious! It's ready for the oven, and you can now relax and prepare any other side dishes as the meatloaf cooks.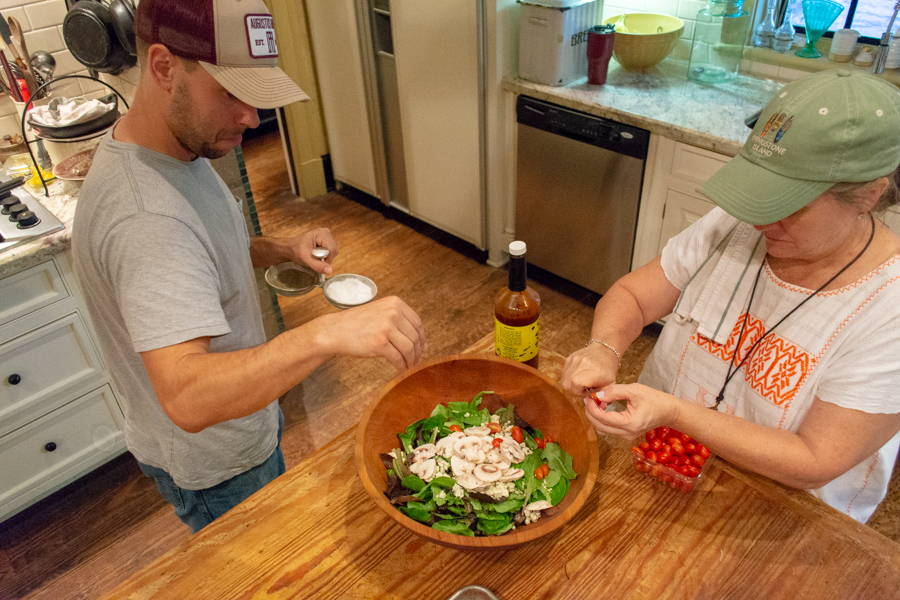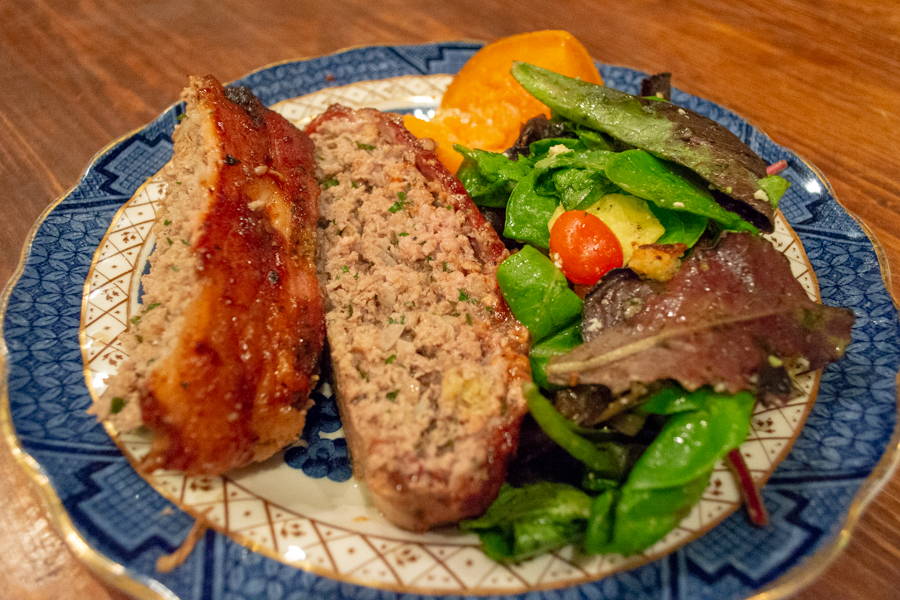 Step 7: Bake in a 350 degree oven for about 45 minutes. For perfect cooking temperatures, use an oven proof internal probe thermometer. It's not completely necessary, but these things are worth having on hand when cooking meat. Set the internal meat temperature to 155 degrees. For this thickness it will take about 45 minutes. If not using a thermometer, you can also insert a knife into the center of the meat for about 1 second then pull it and gently place the flat part of the knife tip just bellow your bottom lip. If it's really hot, it's likely done cooking. If it's only luke warm, give it some more time. Once finished cooking, it's a really great idea to let the meatloaf rest for about 5 - 10 minutes before slicing. The juices need a chance to settle down and distribute evenly as it begins to cool. It will continue cooking for a few minutes after you pull it from the oven which is why we suggest pulling it at about 155 internal temperature. Serve with your favorite side dishes! For this meal we made a nice salad and a roasted sweet potato. Simple, delicious, and affordable.
---