GREEN CHILI AND BACON MEATLOAF
---
Meatloaf is not just a recipe, it's a way of life! In this version, we cover some solid fundamentals which you can apply to any type of recipe or flavor combination. Embracing this approach gives you the confidence and freedom to make a killer meatloaf any day of the week with whatever you might have on hand.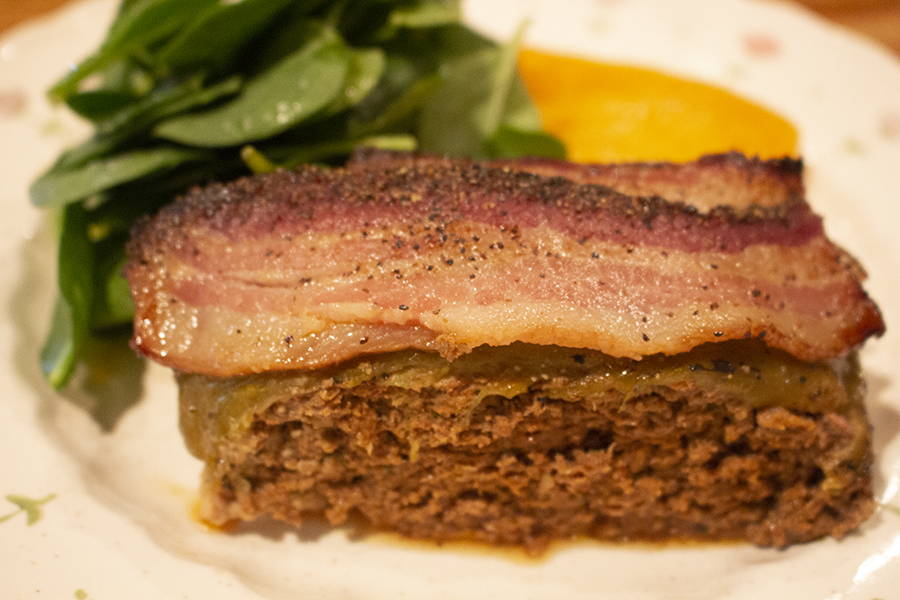 After a quick survey of the pantry, fridge, and freezer, it became clear that this meaty masterpiece was going to take on a Southwestern flare. Roasted green chilis were perfect for layering over top along with strips of peppered bacon. A few things to note about this particular meatloaf:
We used a package of our Beef Organ Blend, which contains a mixture of ground beef, liver, and heart. It is a great way to get the added nutritional value of the organs without scaring anyone in your family (they won't even notice the organs are included in the final dish).
The liver in the Beef Organ Blend also serves as a great binder in the overall meat mixture, leading to a more appealing slice versus a crumbly meatloaf that falls apart when you serve it.
We used the Siete brand taco seasoning which worked really well. It contains a great combination of spices and flavor with the benefit of helping to create a cohesive overall texture in the finished meatloaf.
---
Prep time: 15 Minutes
Cook time: Around 45 Minutes
May we suggest: 
Ingredients: (scale up or down as you like)
1 lb Beef Organ Blend
1 lb Ground beef, ground pork, or any ground meat of your choosing (we used a package of ground elk from the freezer)
8 pieces Green chili strips, roasted, peeled, and de-seeded (you can buy these already processed as described; or make them yourself and put the extra in the freezer for later use)

8 pieces of sliced bacon

For the meatloaf seasoning:

2 packets of Siete brand mild taco seasoning

Two whole eggs

Juice and zest from 1 lime

1 tablespoon tomato paste

1 tablespoon chopped fresh oregano

3 tablespoons goat cheese
---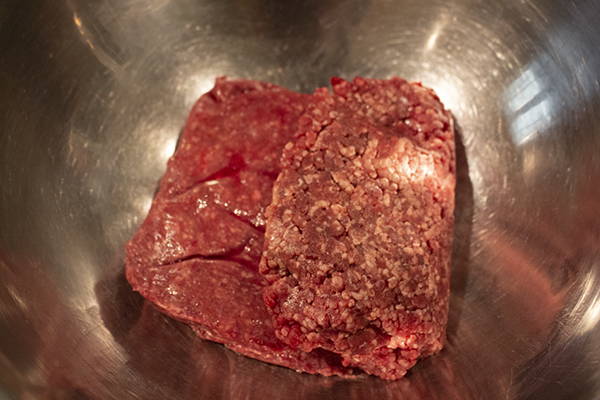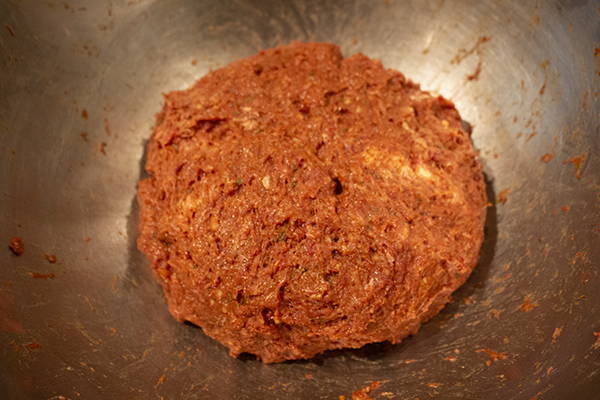 Step 1: Season and mix the meat. Add all of the ingredients for the meatloaf seasoning plus the meat in a large mixing bowl and mix thoroughly by hand until it forms a cohesive, sticky mixture. This is a messy but fun job! All of the ingredients should start to easily pull away from the bowl.
---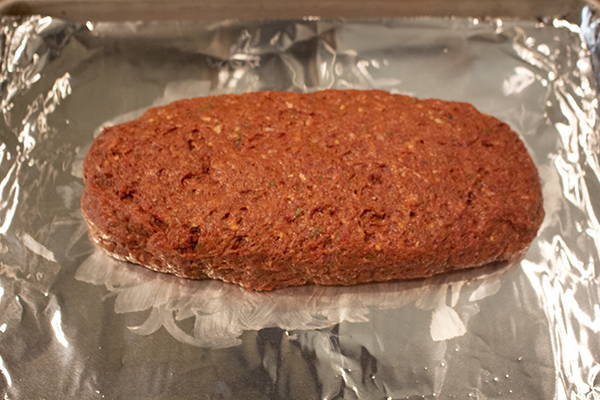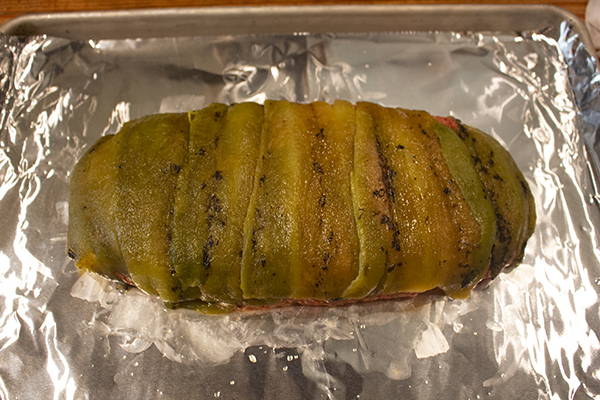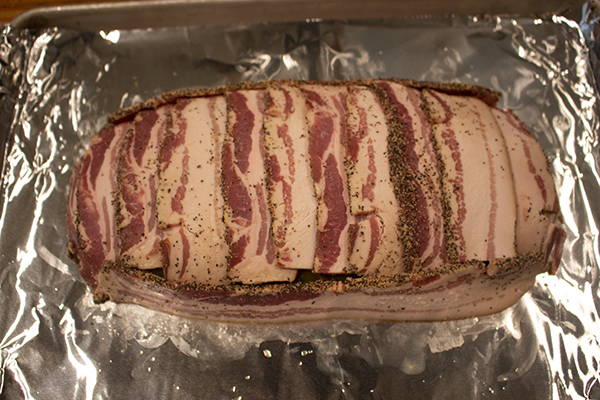 Step 2: Form the meatloaf. Preheat the oven to 375 degrees. Line a sheet tray with either unbleached parchment paper or foil for easy cleanup and form an evenly thick rectangular shape with the meat mixture. It doesn't have to be perfect. Ours was about 2.25 inches thick. Layer the the roasted green chili over top, followed by the strips of bacon. All but 2 of the strips of bacon were cut in half to match the size of the meatloaf. The last 2 whole strips were placed around the sides.
---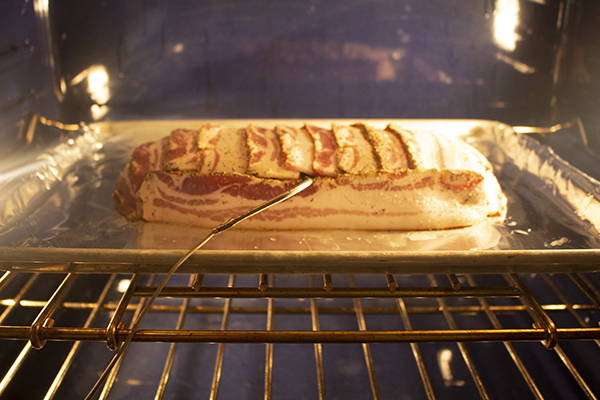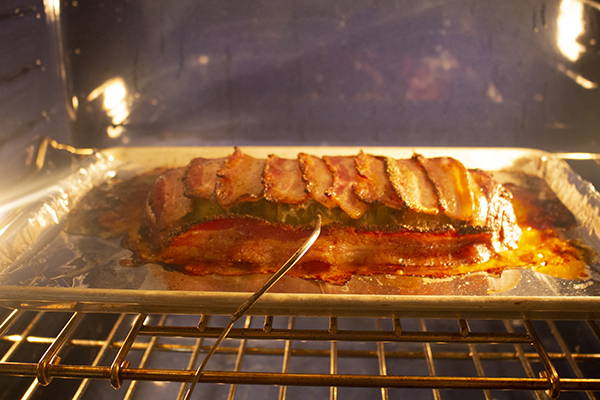 Step 3: Cook in a 375 degree oven until 155 degrees internal temperature. If using the oven proof internal probe thermometer, insert the probe into the center of the meatloaf. Make sure the cord is attached to the counter top unit next to the oven and set it for 155 degrees. Once the internal temperature is reached (this took about 45 minutes), check again the internal temperature by removing the probe and inserting it into a different spot in the middle of the meatloaf and check to make sure it registers at 155 degrees. Pull it from the oven and let it rest for at least 5 - 10 minutes before serving. It will continue cooking for a couple minutes once removed from the oven and then the juices will began to cool and settle.
Step 4: Slice and serve. As a reward for your hard work, we recommend you promptly eat the two side pieces of bacon before anyone notices. Then using a metal spatula, slice down into the middle and serve a piece along with your desired side dishes, or enjoy it just as is without any additions!
---