INSTANT POT GROUND BEEF AND MUSHROOM RAGOUT
This is a very simple, hearty ragout which tastes amazing and will make great leftovers. The dish literally takes 3 minutes to cook once the pressure cooking process begins in the Instant Pot. If you don't have an Instant Pot, chances are you've at least heard about it. It's a multi-use electric pressure cooker which has become very popular for its reliability and ease of use (28,000+ reviews on Amazon). My favorite part about using the Instant Pot is that pressure cooking can turn cheap, tough cuts of meat into delicious, tender results in a fraction of the time it would take using more normal cooking methods. Sometimes I like to go a more traditional route, but for speeding things up, this pressure cooker is a must have.
If you're not using an Instant Pot for this recipe, you can use a normal pot and simmer the ragout until the mushrooms are the right texture, maybe 20 minutes once all the ingredients are assembled. We want to fully cook the mushrooms so they are tender but not mush. The benefit of using ground beef for this recipe is that it also cooks very quickly, so everything really comes together in a short amount of time. For this recipe I used 4 different varieties of mushrooms from a grower (Hi-Fi Mycology) at our local farmer's market, but any type will do! Cremini, shitake, oyster, etc. I just love the flavor and meaty texture of mushrooms! Roasted spaghetti squash was used in place of pasta, but use whatever starch you have on hand or prefer!
Prep Time: 10 minutes
Cook Time: 20 minutes
Difficulty: Easy
May we recommend:
INGREDIENTS
4 cups chopped/sliced mushrooms

2 cans fire roasted crushed tomatoes (about 30oz)

1 cup beef or chicken stock

1 medium onion, medium dice

4 large cloves garlic, chopped

Herbs: thyme and sage (or any type)

Spices: star anise, black peppercorns

White wine vinegar (or any type)

Salt and pepper for seasoning

Squeeze of lemon (optional)

Parmesan for grating (optional)
Step 1: Roast the spaghetti squash. Preheat the oven to 375 degrees. Cut the spaghetti squash in half lengthwise and scrape out the seeds. Side note: you can poke a few holes in it and pop it in the microwave for 4 minutes to soften it before cutting if you find it difficult to cut. Rub the inside with olive oil and season liberally with salt. Place cut side down on a roasting tray with a piece of parchment paper. Put into the 375 degree oven until fork tender and soft (about 45 minutes).
Step 2: Saute the vegetables. Set your instant pot to the saute function on high and add about 2 T olive oil. Once hot, add your diced onion and carrot, cooking and stirring occasionally for about 5 minutes until the onion becomes translucent. Add the chopped garlic, 1 whole star anise, 6 whole black peppercorns, and season with salt.
Step 3: Add tomato sauce and stock. Add the 2 cans of fire roasted crushed tomatoes, 1 cup stock, and the herbs. Stir, season with salt, and bring everything to a simmer. Taste it and adjust the salt if needed. You should be seasoning the layers as you add them. Add 2 T of white wine vinegar. This is the acid, and it's an important component of balancing flavors!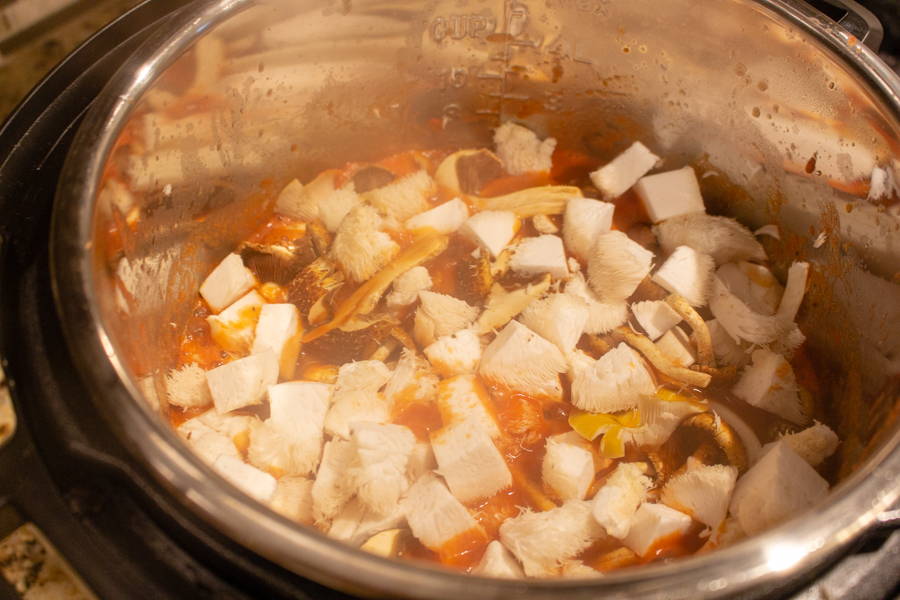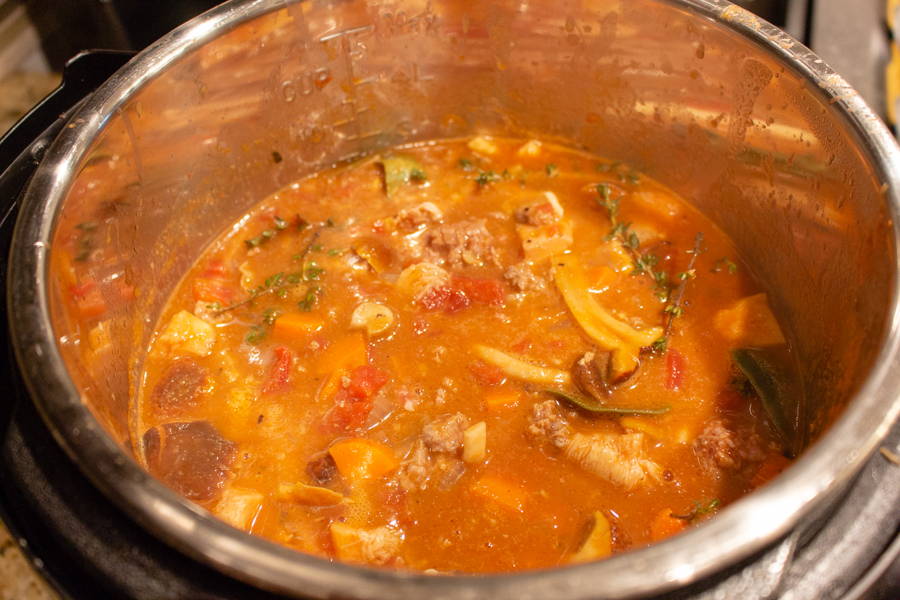 Step 4: Add the mushrooms and ground beef. As you can see, I'm using a variety of mushrooms that are different sizes. The smaller mushrooms I kept whole. The medium sized I split in half lengthwise, while the larger mushrooms I diced into large chunks. The goal is to have everything cook about the same rate and time so it finishes evenly. Once the mushrooms are in, add the ground beef but break it up into small chunks. Stir and season with salt once again. Now it's ready to pressure cook!
Step 5: Cook the ragout. Connect and lock the top of the instant pot, setting the release valve to the closed position. Now hit manual, high pressure, and set for 3 minutes. Once the setting begins, everything will come up to pressure and begin cooking with a countdown of 3 minutes. It will take a few minutes for the pressure to build and for the actual cooking to begin, but since it won't take long since all the ingredients are already very hot!
Step 6: Check the spaghetti squash. It should be soft and fork tender, meaning you can insert a fork into the flesh and pull it out with ease. Remove it from the oven and allow to cool. If you flip it over and let the steam escape, it will cool quicker. We just need it cool enough to handle but still warm for the final dish.
Step 7: Release the pressure cooker. Once the pressure cooker completes the 3 minute cooking cycle, it will automatically go to a keep warm function. You can stop the cooking process by hitting cancel. If you have the time, give it a few minutes to depressurize slightly, otherwise you can immediately open the pressure release valve. Steam will shoot out of the valve quite rapidly, so you can also gently place a towel over the top of it to help prevent moisture from splattering the surrounding area. Once completely depressurized, remove the top and wallah! A quick and tasty beef and mushroom ragout. You can serve the ragout either directly inside the spaghetti squash cup as pictured at the beginning of the recipe or take a fork and scrape the squash noodles into a bowl. Serve the ragout on top and if you've got it on hand, squeeze a wedge of lemon for some extra acidity. Now make it snow with grated parmesan cheese and enjoy!
---