HAMBURGER STEAK WITH ONION MUSHROOM GRAVY AND MASHED POTATOES
This is a version of Salisbury Steak but with an added twist! We grill these beauties before finishing them in the oven with the onion mushroom gravy. This adds some great steak flavor and also makes them look more interesting. If you're not wanting to fire up the grill just to sear these hamburger steaks, then you can also skip that step and just sear them in a pan or in a really hot oven before combining with the gravy.
This recipe was scaled up in order to feed 8 hungry adults plus 1 small child with barely any leftovers. You can adjust up or down based on the amount of people you're feeding. I also substituted a quarter of the meat for ground pork, because pork simply makes everything taste better! Feel free to go 100% beef if that's more your taste. Creamy mashed potatoes and green beans were the perfect side dishes to pair with this deeply comforting meal! One of the key elements to bringing this all together is the timing and preparation of all the ingredients, so we start with the sides before moving on to preparing and cooking the meat.
Prep Time: 60 minutes
Cook Time: 60 minutes
Difficulty: Medium (for the # of steps)
May we recommend:

Charcoal grill for the extra step of grilling the hamburger steaks
INGREDIENTS
For the hamburger steaks:
2 cups leftover stale bread

8 cloves garlic, finely chopped

Salt and pepper for seasoning
For the onion mushroom gravy:
1 quart beef stock (1 box)

1 quart chicken stock (1 box)

4 cups mushrooms, quartered

Several sprigs fresh thyme

Salt and pepper for seasoning
For the mashed potatoes and green beans:
5 pounds russet potatoes, peeled and cut into 2 inch chunks

4 heaping tablespoons sour cream (optional)

3 pounds green beans, stems removed

Salt and pepper for seasoning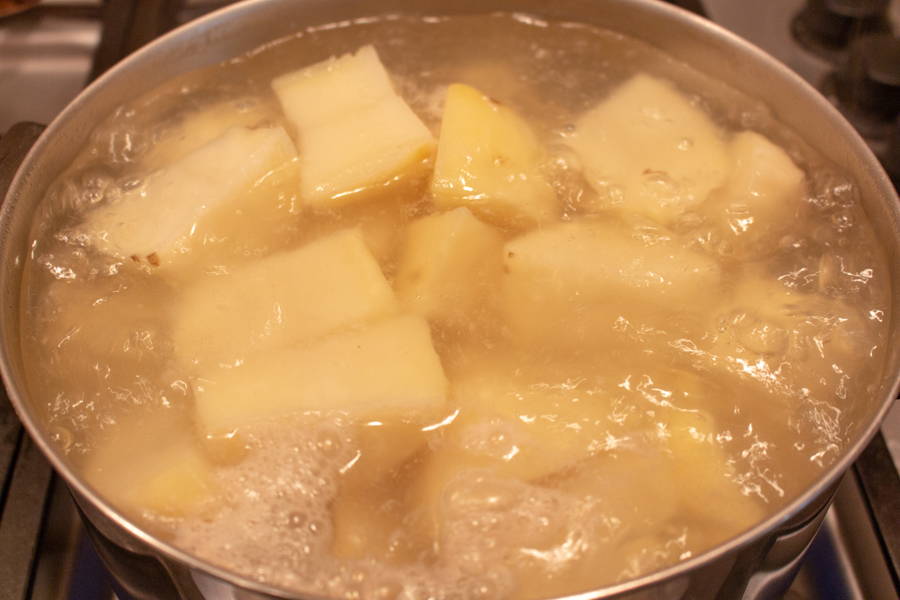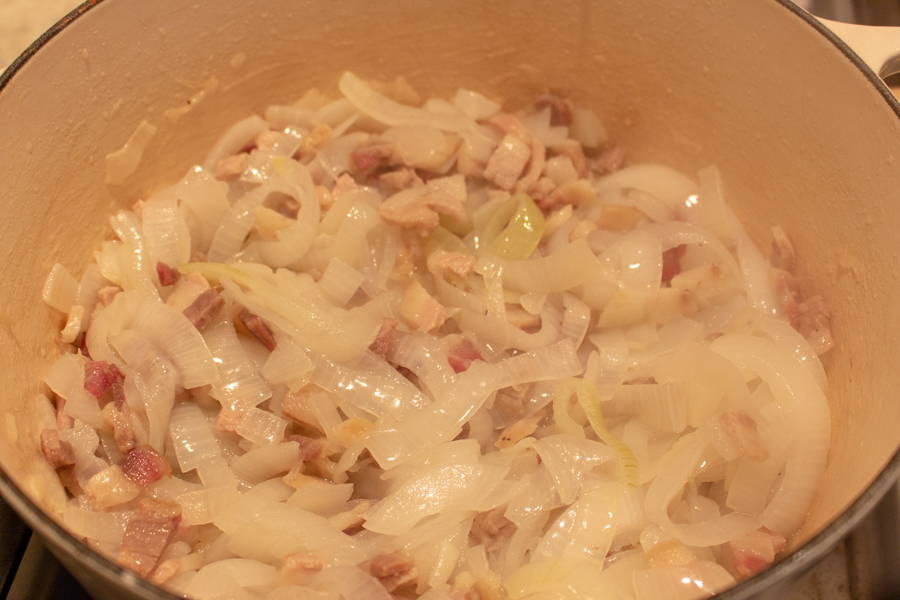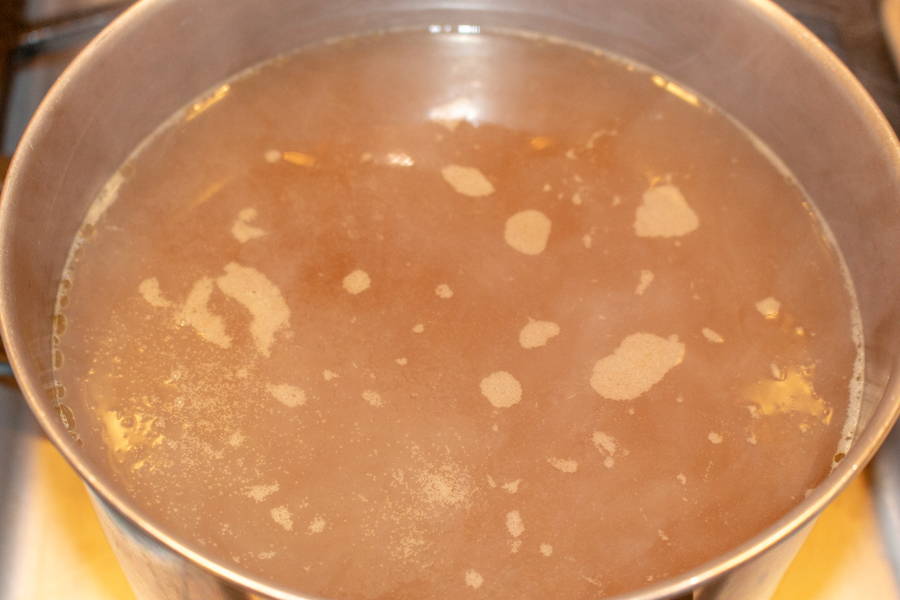 Step 1: Start the whole process. Put your peeled and chunked potatoes into a large pot with cold water and add a healthy amount of salt. Set it on high and get those potatoes lightly boiling until fork tender (once boiling it will take roughly 10 - 15 minutes). Add your diced bacon and sliced onions to another pot or large pan over medium low heat. We want to slowly cook down the onions and bacon so they will caramelize and get that deep, sweet flavor. Stir them occasionally and make sure they aren't cooking too hot, it will take at least 30 minutes. Put both quarts of stock on the stovetop in another pot and lightly boil it until it is reduced by half to make it thicker. This will take around a half hour as well.
*If taking the extra step of grilling the hamburger steaks, go ahead and light your charcoal grill so that the coals will be red hot and ready once you're done making the patties.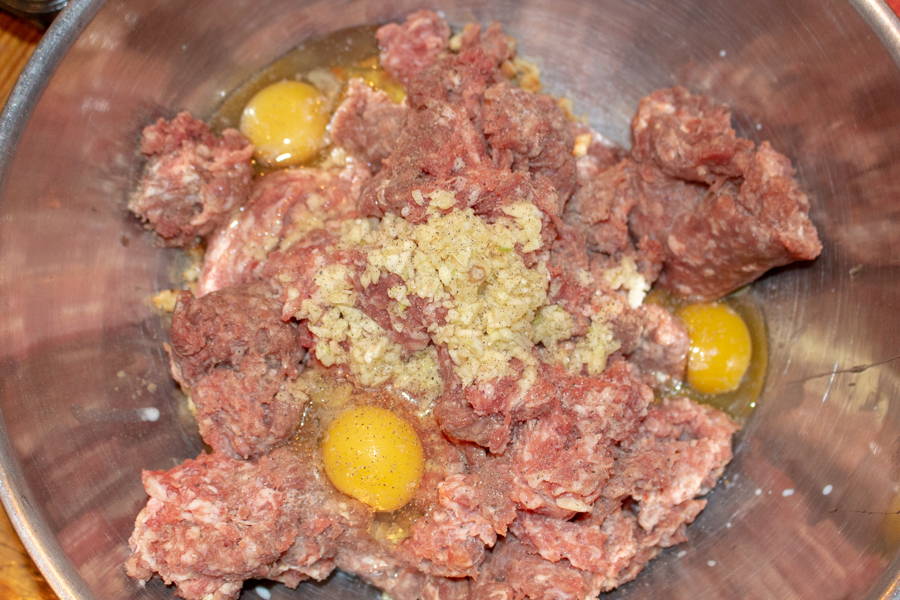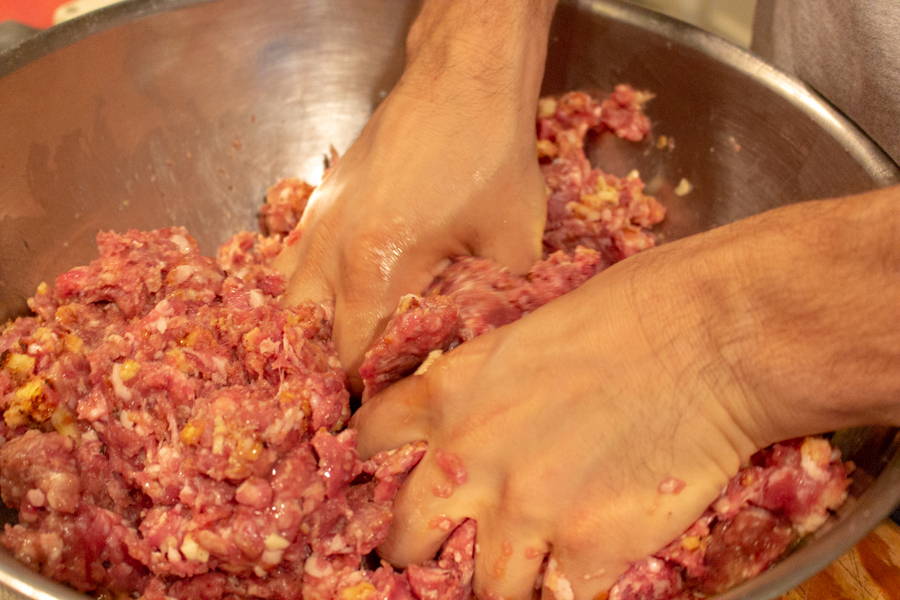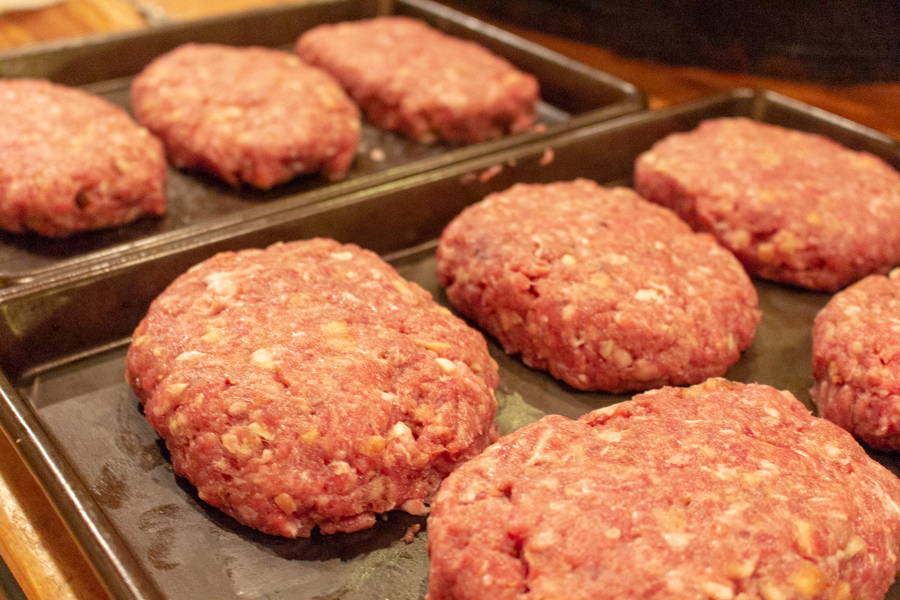 Step 2: Mix and form the hamburger steaks. Combine the meat with all the ingredients in a bowl and mix thoroughly by hand until everything is well incorporated and takes on a slightly sticky texture. Add salt to taste, probably about 3 tablespoons plus 1 tablespoon pepper. I never measure salt, but over time you will get comfortable doing it by eye. Form 8 large rectangular patties by hand. You want to make them quite thick, at least 1.5 inches so they stay juicy during the cooking process. After we grill them, they will still be quite rare and will finish cooking in the oven.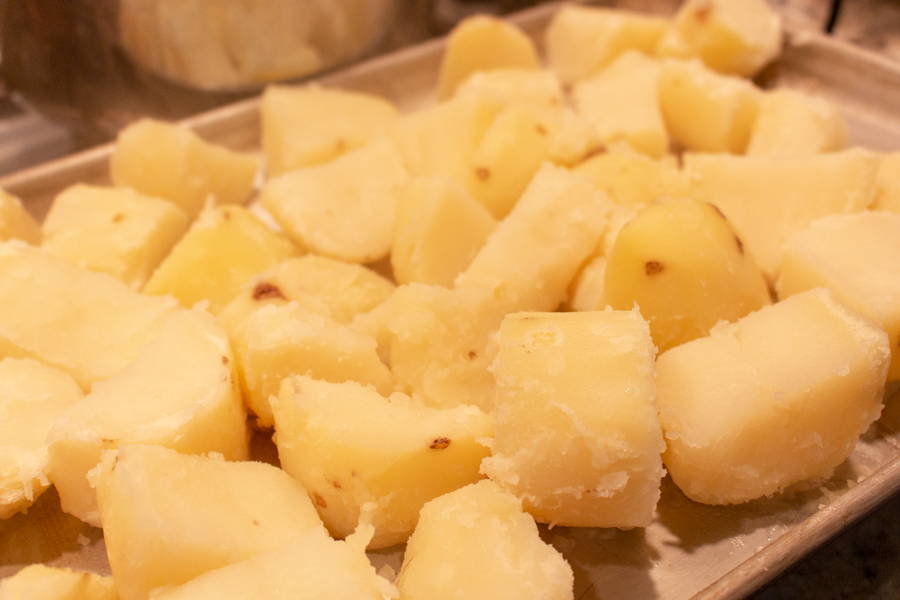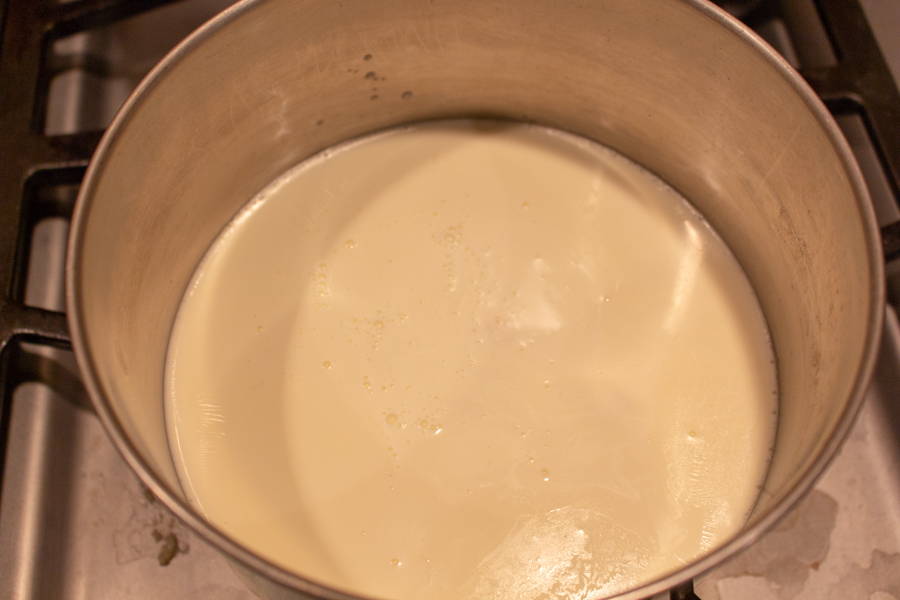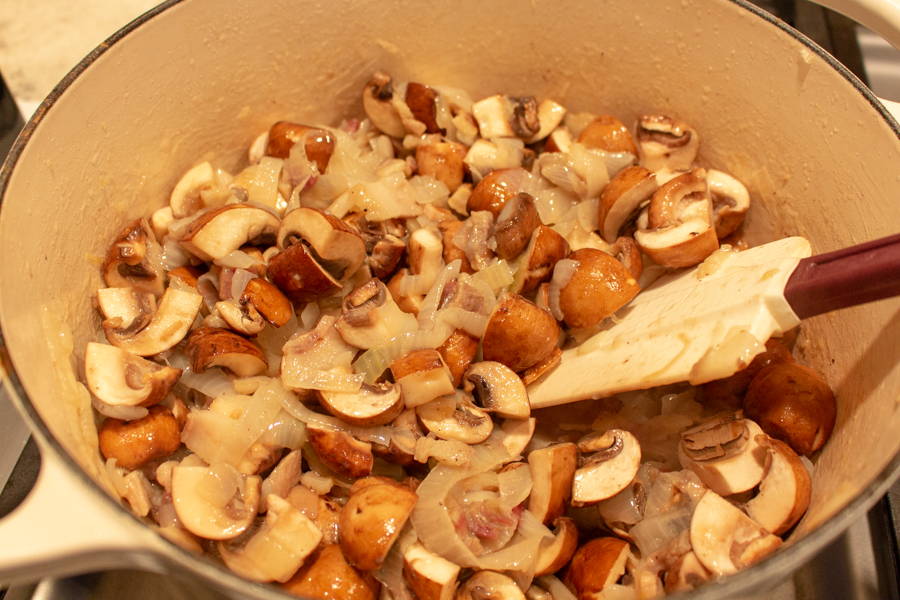 Step 3: Continue with the side dishes. Check your grill to make sure the coals are getting nice and hot. Once the potatoes are fork tender, drain them and lay out on a roasting tray. I like to put the cooked potatoes into a 375 degree oven to help evaporate extra moisture. The less water they have, the more they will take the fat (cream and butter) ! Do this at any point before serving or once the hamburger steaks and gravy go into the oven to finish cooking. Fill your potato cooking pot back up with water and bring it to a boil to cook the green beans. Add the mushrooms and reduced stock to your onions and bring the gravy to a low simmer while waiting for the hamburger steaks. Taste the gravy for salt and adjust. Put your cream in the now empty pot you were using to reduce the stock and bring it to a very low simmer. We don't want to add cold cream to our warm potatoes when mixing, but make sure not to scald or boil the cream. It can be warmed up just before making the mashed potatoes.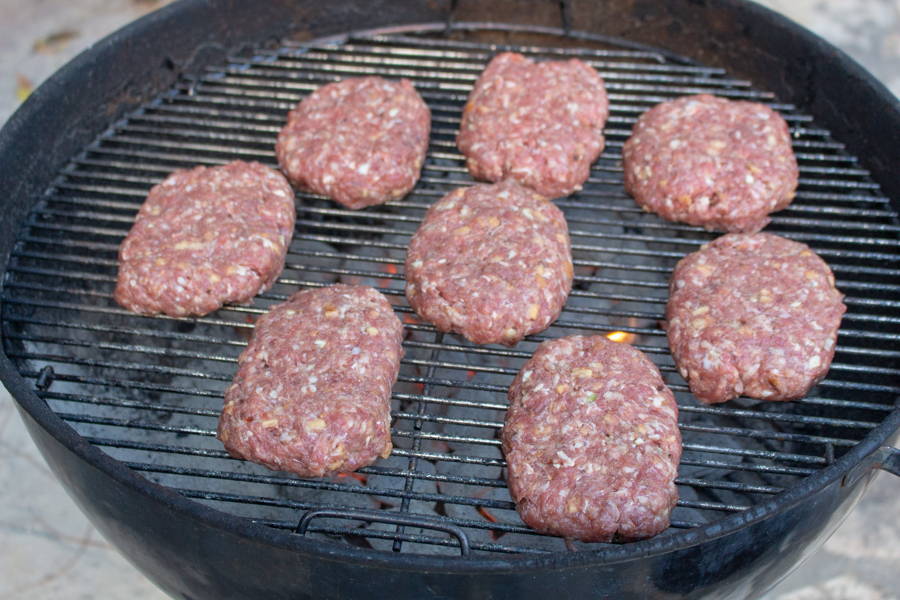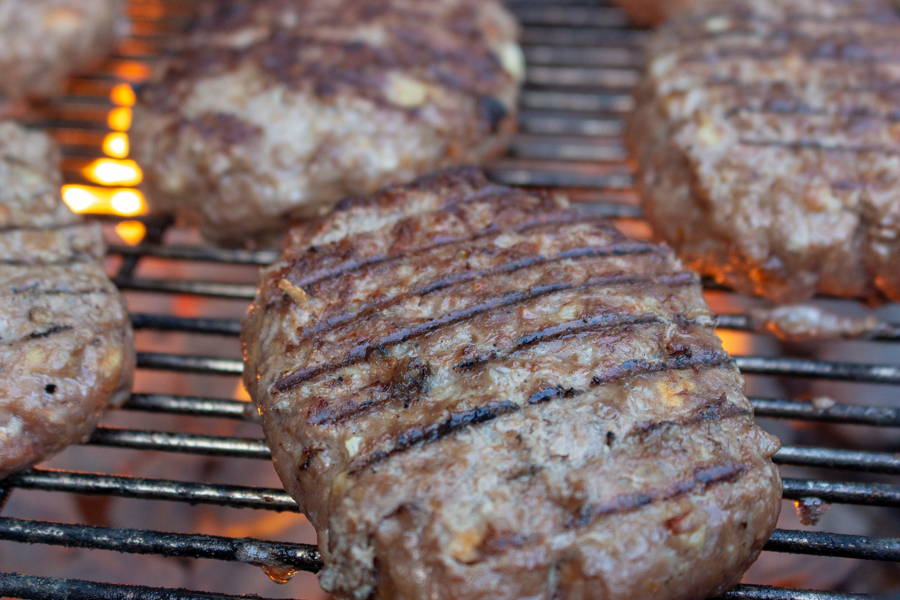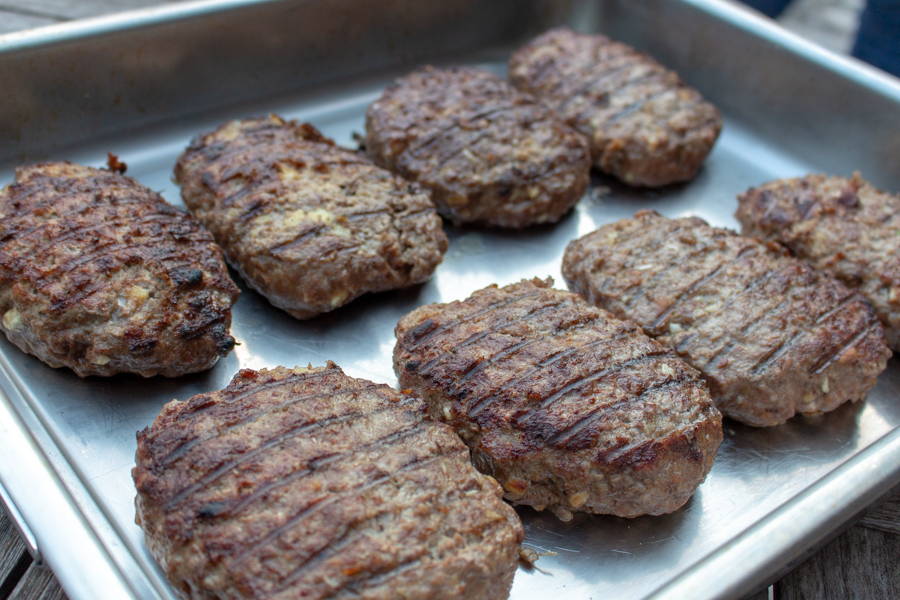 Step 4: Grill the hamburger steaks. Hopefully your coals are red hot by now. Spread them out into an even layer and place the grill over top. Let it get nice and hot and give it a quick cleaning if you have a grill brush. I also recommend taking a paper towel and wiping the grill with a light coating of oil to help prevent sticking. Place the hamburger steaks on the hot grill and let them cook for about 4 minutes per side. This will depend on how hot your grill is and how many coals you are using. If it's extremely hot it may take less time. The goal here is to get a nice grilled crust and grill marks on both sides of the hamburger steaks, but keep the middle very rare so they finish cooking in the oven. This is why we made them nice and thick. Flip once and repeat, then place your grilled hamburger steaks into a roasting tray.
Step 6: Finish the hamburger steaks. Add the onion mushroom gravy over top of the hamburger steaks in the roasting tray, and top with several sprigs of fresh thyme. Place the roasting tray into a 375 degree oven and let them simmer for about 20 minutes until everything comes together and the hamburger steaks are no longer rare. Finish putting together your sides while they cook in the oven.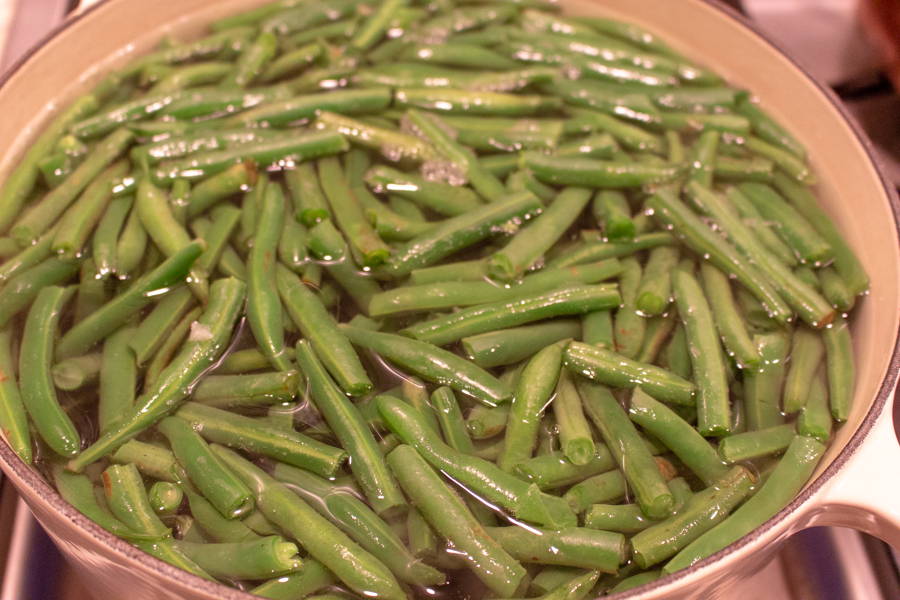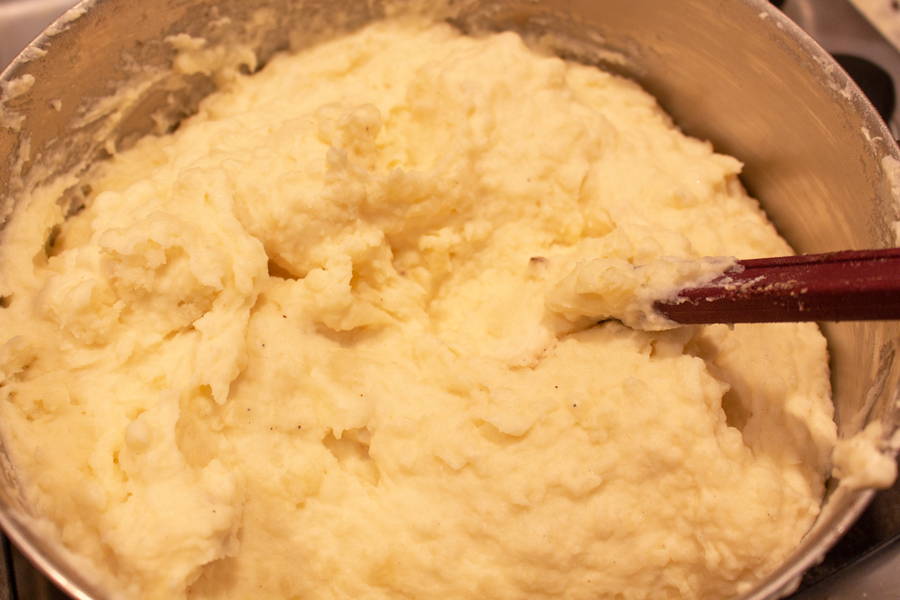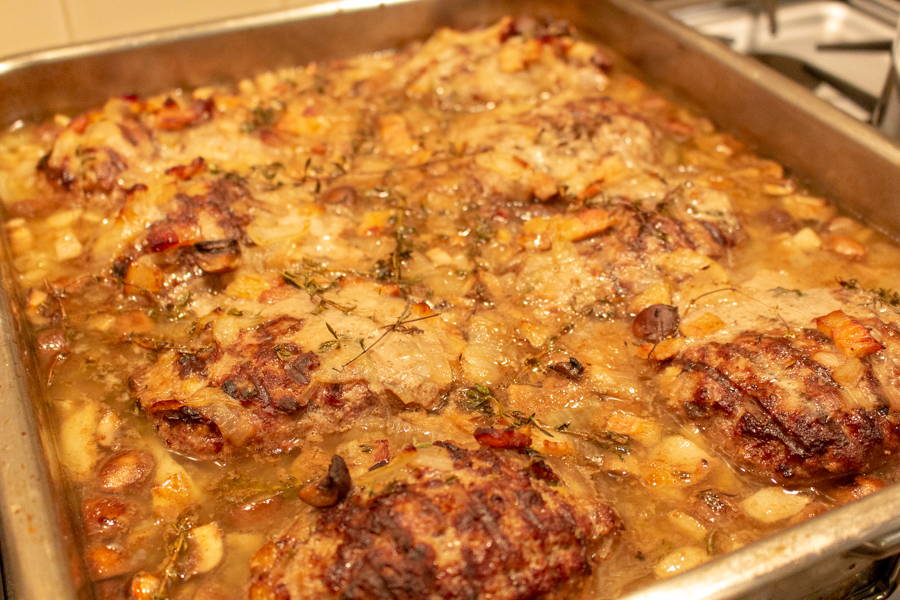 Step 7: Bring everything together. Add your green beans to the boiling water (salt water first) and blanch them until nice and tender, about 10 minutes. Drain them once cooked to your desired doneness, add them back to the pot, douse with olive oil, season with salt, and add your lemon zest. Mix together and taste for seasoning. For the cooked potatoes, mash them with a potato masher or for a very fine texture use a ricer. Add half the warm cream and diced cold butter, stirring. Once the butter has mostly melted, add the rest of the cream, cold butter, and sour cream. Mix together just until butter has melted and add salt and a little pepper. Taste for seasoning, and add more as necessary. The hamburger steaks should be cooked through by now, so remove them from the oven and let rest for about 5 minutes.
Now serve with everything and enjoy the fruits of your labor! It's truly a comfort to eat such great food and cook for family and friends. We love making time for family dinners!
---