The cheek of any animal is a highly prized portion amongst those who know how good it is. Even when it's absolutely tiny on something like a whole roasted fish, it's still a delicious little morsel worth finding before anyone else does. This simple beef cheek recipe is so easy and delicious, plus you can use this technique on any tougher beef cut to reduce cooking time.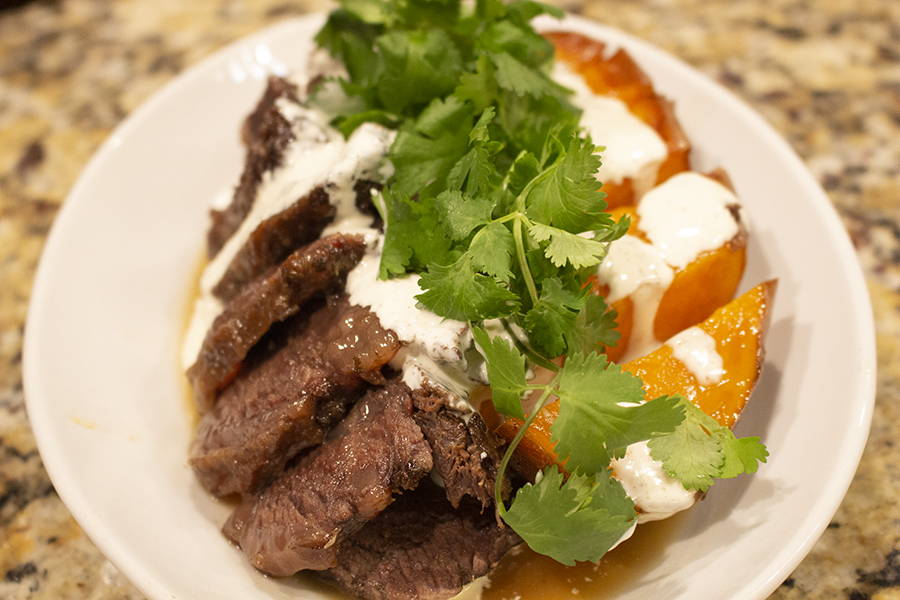 Beef cheeks are big enough to make a great meal. You can think of them almost like miniature briskets (there are two per animal). They have a decent layer of connective tissue, which means with slow and look braising, they turn into some of the most tender, flavorful meat anywhere on the animal. The popular Mexican dish Barbacoa typically uses beef cheeks to accomplish one of the most classic options at any good Mexican joint. Some people even smoke them!
In this easy instant pot beef cheek recipe, we make quick work of this cut and serve it with a roasted sweet potato and cilantro, drizzled with coriander lemon aioli to finish.
INGREDIENTS
1 medium onion, diced

3-4 cloves garlic, minced

1 cup white wine
1 cup stock (chicken, beef, or pork)

1 star anise

4 cloves

10 black peppercorns

1 large sweet potato

1 bunch cilantro

Avocado mayo

Coriander & Lemon for sauce
TIME AND DIFFICULTY
Prep Time: 15 minutes total
Cook Time: 1 hour total
Difficulty: Easy
May We Suggest:

An instant pot pressure cooker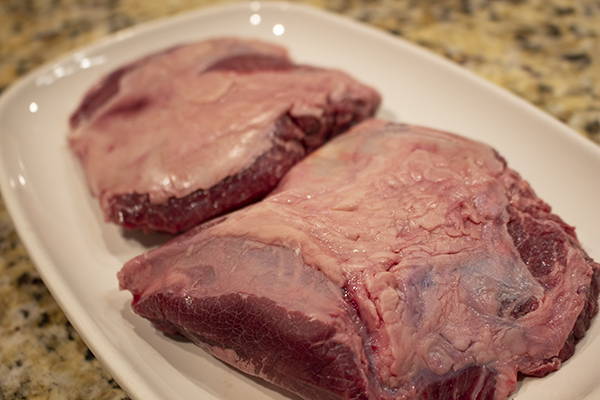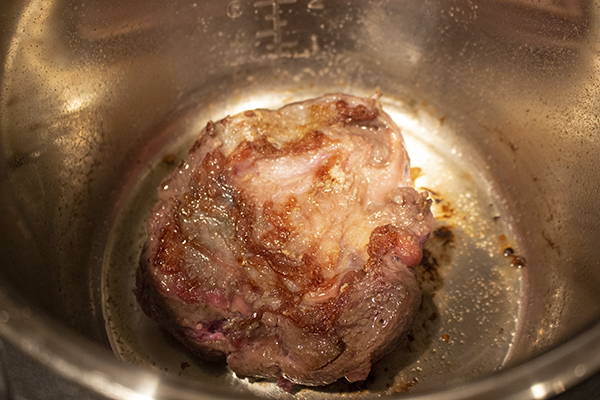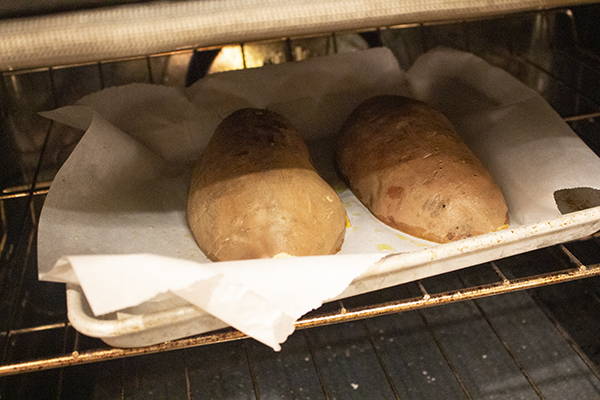 Step 1: Brown the cheeks. Set your instant pot to the Saute function on high. Season the beef cheeks liberally on both sides with salt. Once hot, put a small tablespoon of oil in the instant pot and place the beef cheek fat side down. Sear for a few minutes and flip to the other side. Repeat with the second cheek until both cheeks are browned. Set aside. While doing this step, cut your sweet potato in half lengthwise and place cut side down on a sheet tray lined with parchment paper. Poke a few holes in the skin and place into a 375 degree oven to roast until fork tender.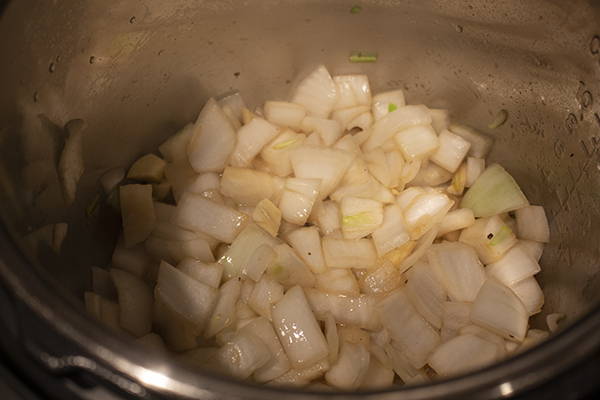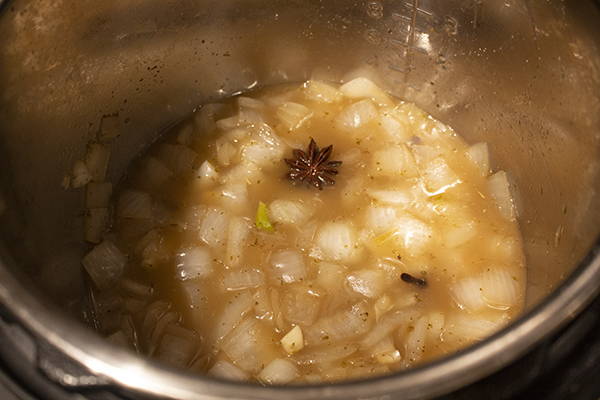 Step 2: Add the vegetables and liquids. With the instant pot still on the Saute function, add the onions and garlic, stirring for a few minutes until softened. Add the star anise, cloves, black peppercorns, and season with salt. Add the white wine to deglaze the pot, stirring to scrape up any browned bits still on the bottom of the pot. Bring the wine to a simmer for 60 seconds. Add the stock, and bring to a simmer. Place the beef cheeks, fat side up, into the pot and secure the lid on top with the pressure release valve closed. Set on high pressure cook for 55 minutes.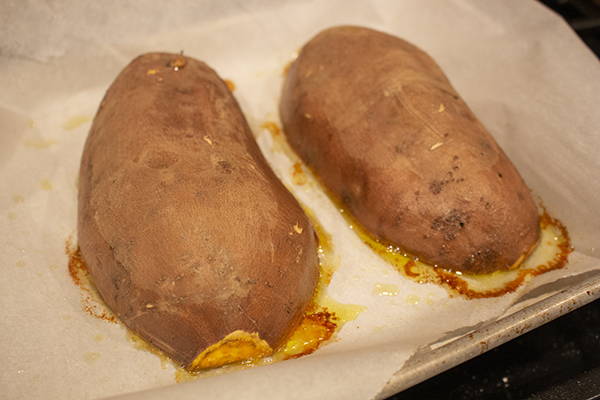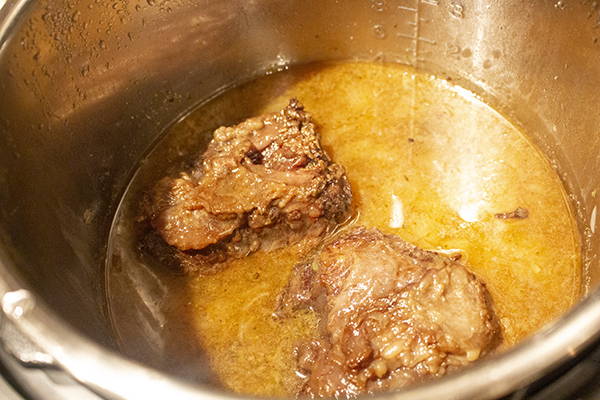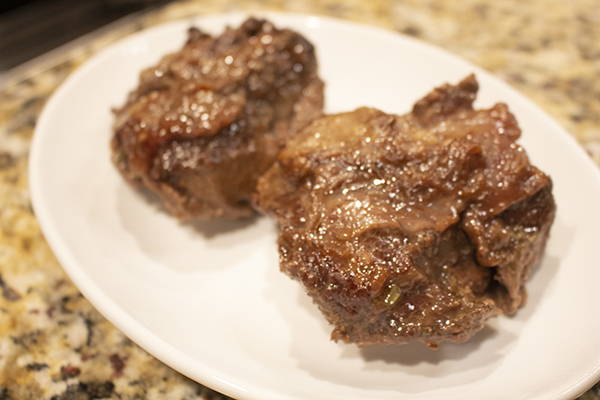 Step 3: Depressurize the instant pot and cool slightly. Check the sweet potato after about 45 minutes, pull from the oven when it's fork tender and set aside until ready to serve. Once 60 minutes on the pressure cooker is complete, turn it off and let is naturally cool down for around 10 minutes. Now open the pressure release valve to depressurize and let the steam escape (carefully). Set the beef cheeks on a plate while you finish the last step.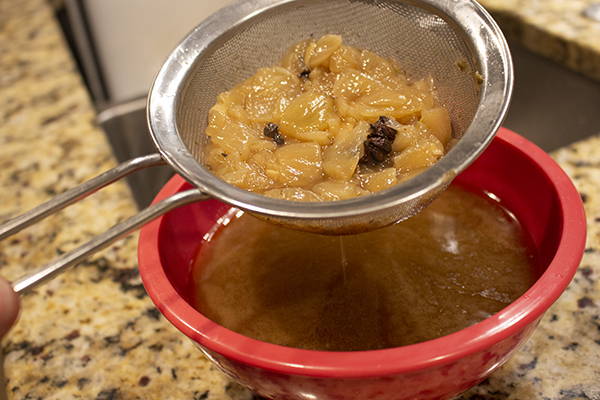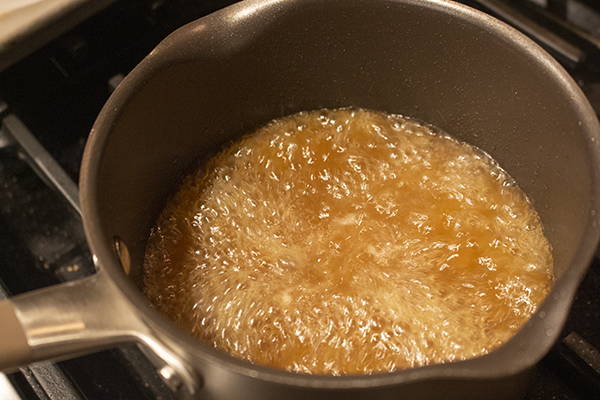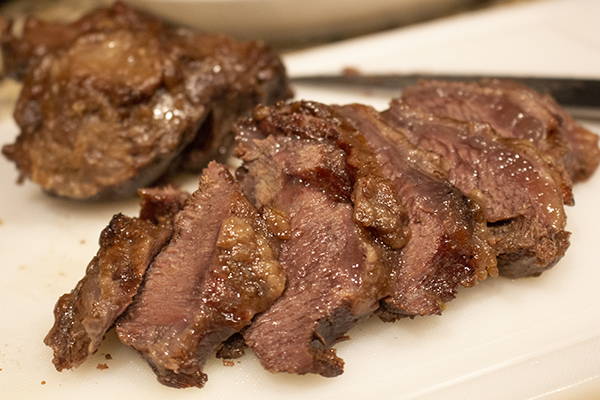 Step 4: Strain, reduce, slice, and serve. Strain the remaining liquid through a fine mesh strainer and discard the solids (they are mush at this point). You can skip this step if you're short on time, but I like to reduce the cooking liquid until it is thicker. Reduce over medium heat until it has reached the desired thickness. While the sauce is reducing, mix 3 tablespoons of the avocado mayo with 2 tsp coriander and juice from half a lemon until well incorporated.
When everything is ready, slice the beef cheeks and fan the meat out on a plate for a nice presentation. Slice the sweet potato and place next to the meat. Liberally spoon the reduced sauce over top both the meat and sweet potato. Finish with a drizzle of the coriander lemon aioli, and top with lots of fresh cilantro!
---