QUICK GROUND BEEF RECIPE FOR TACOS
---
Ground beef is a kitchen staple. It's always good to have on hand because of its versatility and price. If needed, ground beef can go from your freezer to your dinner plate in well under one hour. Tacos are really just an extension of that philosophy. Easy to prepare and delicious, tacos can be filled with virtually anything you have on hand.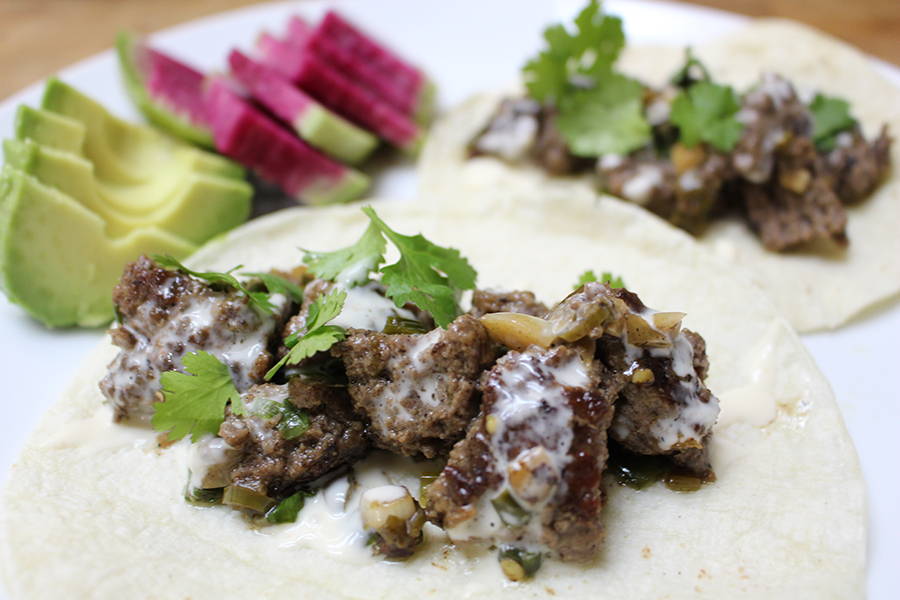 While it's pretty common when making ground beef tacos to throw everything together in the pan until you've got a cooked mixture, I'm going to show you a slightly different approach. It will make your ground beef taco taste a little more like a steak taco, heightening the overall flavor and texture. This is one of my favorite techniques used to prepare ground beef and can be imitated in many other recipes.
---
Prep time: 5 Minutes
Cook time: 20 Minutes
May we suggest: 

Using white corn tortillas

Drizzling a white sauce on top of tacos, made by mixing 2 tablespoons of creme fraiche with 2 tablespoons of mayo

Sliced radish, avocado, lime, and cilantro to serve with your tacos
Ingredients: (scale up or down as you like)
1 lb ground beef

Meat seasoning

1/2 teaspoon salt

1/4 teaspoon black pepper

1/4 teaspoon cumin

1/2 teaspoon tomato paste

3 green onions

3 garlic cloves

1-2 serrano peppers

1/4 cup vinegar (white or red)

1/2 cup stock (chicken, beef, pork, or just water if you don't have stock)

1 1/2 tablespoon butter

More salt, to taste
---
Step 1: Season the meat. Instead of seasoning the meat as you cook, mix your spices in with the meat before cooking. Combine the meat, salt, black pepper, cumin, and tomato paste together in a mixing bowl and mix thoroughly by hand or with a spoon. You want to make sure the seasonings are evenly distributed. You can do this up to a day in advance if you like, storing the mixture in the fridge until you're ready to use it.
Step 2: Prepare other ingredients. Dice the green onions, garlic, and serrano pepper. You can separate the white part of the green onions for the initial cooking and add the green portion towards the end. You could substitute any other type of onion or pepper here. Now would be a good time to make sure all the other taco fillings are prepared so that everything is ready at about the same time.
Step 3: Form the meat into patties. Instead of cooking all the meat together at once, we're going to divide it into patties, and make sure not to overcrowd them in the pan. If your patties become too crowded, you're likely to get more of a steaming effect as the moisture heats up and evaporates. Instead, make sure the meat gets a really good seared, brown crust. Sometimes this will mean cooking the meat in batches if you've got a larger recipe or a smaller pan.
Step 4: Cook the meat. Heat the pan over a medium flame until hot. The meat needs to sear once it hits the pan. Coat the pan with some oil to prevent sticking. I'm using avocado oil because has a high smoke point. Once the pan is hot, place the meat patties evenly throughout the pan and make sure they aren't overcrowded. Using your spatula, cook for 3-4 minutes and flip the meat to the other side, checking that it has that golden brown crust. Think of this as if we're cooking a medium-rare or medium burger patty. You want to pull the meat from the pan as soon as it hits that point so that it remains moist and juicy.
---
Step 5: Make the pan sauce. Remove the meat from the pan and add the diced white onion and pepper. Adjust the heat if necessary, so you don't burn what's leftover in the pan. Cook the onion and pepper for a few minutes, stirring, and then add the garlic. Cook for another minute or so, and then add the vinegar. Be careful, as there may be some strong fumes at first! Deglaze the pan by scraping any of the browned bits off the bottom as the vinegar cooks down. After about one minute, add the stock. Season now with salt, and keep the mixture simmering until it has reduced down into a thick sauce-like consistency. Add the chunk of butter and the diced green onion, mixing thoroughly as the butter melts and the sauce and vegetables combine.
Step 6: Add meat back to the pan. Turn the heat down to low and place the seared meat back into the pan. Using your spatula, break up the patties into smaller chunks and pieces. Mix everything together thoroughly so that the sauce coats the chunks and every bite will have some of the onion, pepper, and garlic. Remove the pan from the heat once everything is coated and warm so you don't overcook your meat.
Step 7: Assemble tacos. Warm your tortillas before serving. Spoon the mixture into a tortilla, drizzle with the sauce and sprinkle cilantro on top, if desired. If you like your tacos spicy, you may want to add some raw sliced pepper or hot sauce. Serve with your favorite side dishes or seasoned vegetables. Rather than crumbled ground beef (and there's nothing wrong with that), enjoy moist, seared beef chunks coated in a delicious, homemade pan sauce and nestled into a warm tortilla.
---